Anti-War Index to pages on this site and external links
Norwich Stop the War Coalition
Paddy's Normal Home page
MISSION: Young Campaigner will join thousands of others to form "human shield" in Baghdad
Prepared to risk his life for the sake of peace in Iraq
From Eastern Daily Press, Saturday, February 8, 2003
By LAURA DEVLIN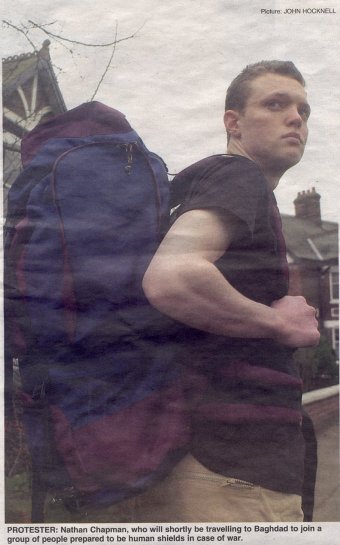 At the age of 20, Nathan Chapman is prepared to risk his life for his cause.
The former King's Lynn schoolboy is planning to put himself in the thick of the action in the Middle East, becoming one of the youngest anti-war protesters in Baghdad.
Later this month, Mr Chapman will join a group of international campaigners who are taking a highly dangerous step to prevent war with Iraq.
He will become a "human shield", hoping his presence and that of thousands of other Westerners will protect Iraqi lives from attack.
The fervent human rights campaigner, who lives with his parents in Lynn, said he was fully prepared to risk his life in the mercy mission.
"Dying is scary, I've never put myself at this kind of risk before," he said.
But I'm prepared to die for this. I am terrified about going out there, but Baghdad is an amazing place that has been completely misinterpreted,
"If I do survive, I could be a mental wreck when I come home, but I'm prepared for that. I've got a three-month open return, but whether I use it or not is another matter."
While he is in Baghdad, Mr Chapman plans to file photographs to his own online magazine.
Set up last year, 0001000 gathers interviews, reports and speeches on the war on terrorism and US and European policy.
His pictures would be loaded on to the site immediately "in case anything happens to me and I don't come back".
"I want to show people what Iraq is really like," he said.
Mr Chapman will fly out to Amman in Jordan on February 21 and travel on to Baghdad, where he will stay with Iraqi families.
"I'll need to learn some of the language but I'm looking forward to that, and finding out more about the Islamic religion, which I think is fascinating," he added.
His trip is part of a mission organised by the UK-based Human Shields organisation. '
"If there are about 10,000 Western lives out there it could stop them. Unfortunately Western lives are worth more than Iraqi ones, which is disgusting," he said.
His parents Scott and Valerie are not entirely happy about his mission.
"They tried to talk me out of it but they knew I really wanted to go and wouldn't expect it any other way."
Mr Chapman needs to raise £3000 for flights, living expenses and equipment, and is looking for support. He plans to refund his supporters.
To sponsor Mr Chapman, contact him at PO Box 1103, King's Lynn PE30 5WH, 01553 765860 or 07884 275893.
Anti-War Index to pages on this site and external links
Norwich Stop the War Coalition
Paddy's Normal Home page